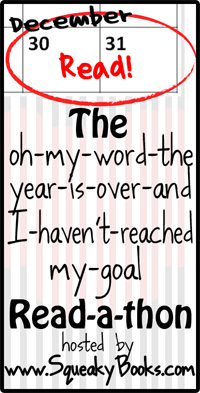 So this year I entered the Goodreads 2011 Reading Challenge to read 30 books this year. I was hoping to maybe exceed my goal but as it turns out . . . it didn't turn out that way.
I'm two books behind, so in hopes of reaching my goal, I am joining my friends Enna Isilee of Squeaky Books in her "Oh-my-word-the-year-is-over-and-I-haven't-reached-my-goal" Read-A-Thon.
Princess of the Midnight Ball
Crossed
A Dog's Purpose




As part of the Read-A-Thon I am to put my reading list that I hope to read in the new year with. So here is my pictured version, as is my way of doing things around here:
My Reading Update:
Total Books Read:0
Total Pages Read:0
Books Read Since Last Update:0
Pages Read since last update:0
Total time read:0
What I'm currently reading: Princess of the Midnight Ball by Jessica Day George
How I'm currently feeling: Feeling a little rush as I trying to get this post done so I can start reading!